I recently connected with Carmen, my childhood friend Jayce's daughter. We met a couple of times, first in Malaysia, and later in the States. She's been traveling quite a bit, and recently moved to Zurich, Switzerland. In this post, she shares one of her exciting adventures in her new adopted country. Please welcome guest blogger Carmen Cheok.
It was almost the end of spring, and we finally found a clear sunny day to travel up to Jungfraujoch (pronounced yung-frau-yoch, Jungfrau meaning 'virgin' in German), a saddle between two Bernese Alps peaks, Jungfrau and Mönch.

Switzerland is famed for its raw, natural beauty, surrounded by snowy alps of all shapes and sizes. And according to most travel guides, Jungfraujoch is THE place to visit in Switzerland. After all, it is the Top of Europe (3454 metres or 11,332 feet and the highest railway station in Europe to be precise)!

To get to Jungfraujoch, we had to travel for about 4 hours via train from Zurich using the Lautebrunnen route. And I must say the journey was well worth it for the panoramic views. Pro tip: For unobstructed pictures, sit on the right side of the train going up from Interlaken Ost onwards. We sat on the right, hence the unsuspecting models in the following images.

And my oh my, the unreal views could've come straight out of National Geographic:
Cascading waterfalls, rolling hills, snowy alps, turquoise blue lakes....
and once you get past that feast of colours and lush nature, you're treated to the wonderful sight of a winter wonderland.
Coming from Malaysia where it is just rain and sun all year round, it felt pretty amazing that I could enjoy nice sunny weather in the morning and then be surrounded by powdery snow in the afternoon, all on the same day!
It was our lucky day because just as we were admiring the view of the Sphinx Observatory atop the mountain, a cloud descended upon us:
If you visit during peak season, do expect large tourist groups at the visitor centre. I'm glad to say that the crowd subsided towards 5 p.m. near closing time, and we had almost the whole place to ourselves.
On our way down, we were treated to more picturesque views.
(Now sit on the left side!)
The Kleine Scheidegg stop offers many photo-ops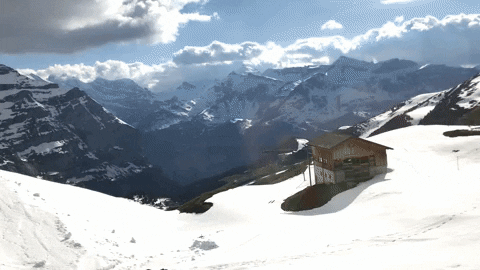 We even hopped off at Interlaken to take a few shots.
Lakeside view from Interlaken West
Caution is advised; the prices to reach the top are as steep as the mountain (up to CHF 374 or USD 385 in from Zurich HB via Lauterbrunnen to Jungfraujoch station without a SwissPass). For more train ticket information, click here.
For the budget traveler, I would say to catch a view of the mountains from Interlaken instead; or if you have a SwissPass, hop off at Wengen right before they charge you for the next leg of the journey up the mountains. The journey is just as breathtaking as the destination.
Till next time!
This post is shared on
Our World Tuesday
and
Through My Lens
.
You might also like: